INTERNATIONAL BODY SIZE GUIDE
Patterns are created digitally using 2D AutoCAD software, far more accurate than working with traditional paper patterns.
Working digitally allows us to make incremental changes as well as grade up or down a full or half size.
We request that you check our guide to ensure our sizes fit the market you're selling into. Skip this step & find your samples are too large or small, then remakes are chargeable.
Some brands consider our sizes to be on the small side, so do check.
Grab a tape measure & check the bust, underbust, waist & hips of anybody you consider a good size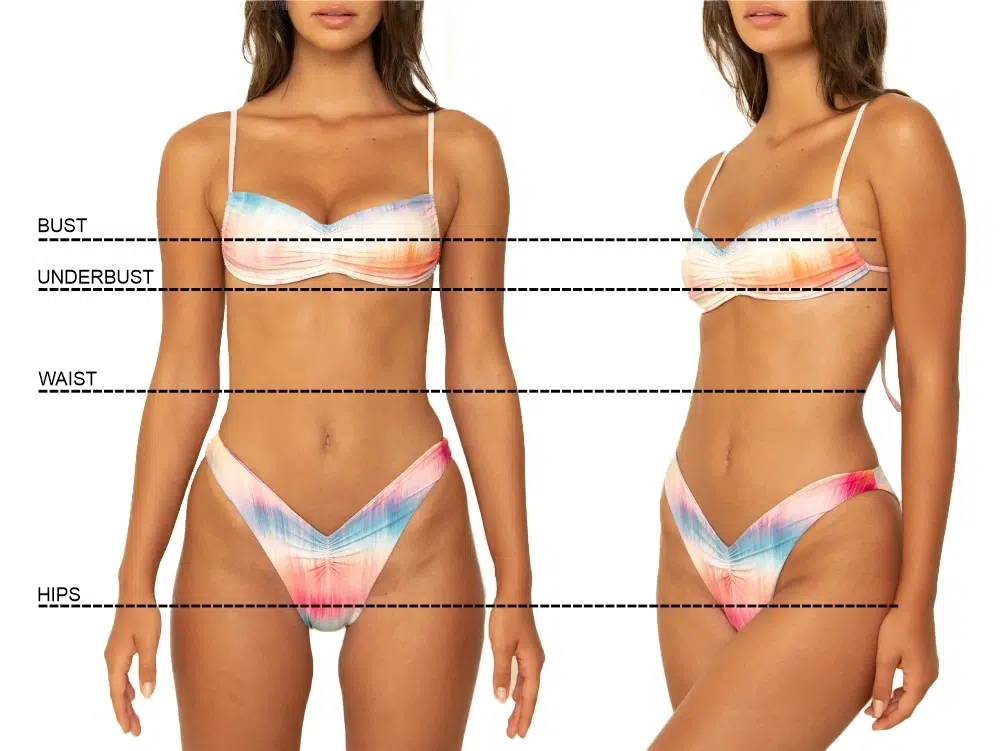 Model shown wears a size S
Wrap the tape around the fullest part of the bust.
Wrap the tape directly under the bust. Stand straight with arms to the side.
Wrap the tape around the narrowest part of the waist.
Wrap the tape around the hip's fullest part, keeping your feet together at the crotch level.
Use a soft cloth tape & fit close to the body.
Don't flex when measuring & keep fairly straight but not too rigid.


size guide
To ensure long-lasting quality, we recommend the following :
Do not dry iron. Only steam iron with caution.
Hand wash swimwear in fresh cold water ASAP after wearing.
Ensure your swimsuit is completely dry before storing.
Do not machine wash & or use detergents.
Suntan creams & chlorine may discolour swimwear, so use caution.
Always wash bright & similar colours separately.
We offer a fit service on a professional size small fit model.
The model will come to our office on request to try your designs with your merchant on hand, taking notes to ensure they fit exactly as you expected.
Cost – USD 85 for 30 minutes.
To organize, contact the model agency or contact us
The peace of mind in knowing your designs fit perfectly before dispatch could be the best investment you ever make.