Custom Made
Our core business is the creation of custom made designs for clients' requests.
We construct swimwear similar to lingerie to ensure the final products fit like a second skin made using fabrics that are soft as butter to the touch.
Whether seamless, reversible or double-sided, we assemble your orders in teams on speciality machines to ensure cups fit snuggly, wires won't poke through, & straps won't twist or buckle.
We needle stitch following the exact contour of each design in 5mm seams.
All we require from you are some clear images & notes to assist us in understanding the individual shapes you want us to construct.
Let's get you started. Price your collection here
MOQ – Minimum Order Quantities
We offer a low MOQ of 30 units per style, 3 per size & colour, with a total amount of 300 units or 150 Bikini sets.
For example, ten designs in several colours &/or prints across 3 or 4 sizes.
Note that our invoice for 300 pieces or 150 bikini sets only buys you 200 units or 100 sets from any other Bali Swim producer.
We try to be as flexible as possible with our MOQ, so as long as your order is fairly close, in most cases, we can accommodate.
It's quite normal for buyers to request assistance in compiling orders.
We have one person who handles production orders, assisting clients in matching their requests to our MOQs.
If you require assistance, Contact us
When you're ready to place a bulk PO, we require your approved samples sent back*. Be sure to check our Delivery page & follow the instruction on how to send packages. Should you prefer, we can pick up your samples using our account.
*You may request to produce two sample sets, one remaining in our office & one sent to you. We only charge one time our wholesale price for the second set.
ECONYL®, CARVICO® or REPREVE™ branded fabric hangtags are added once your order is sewn, steamed & completed.
Finally, we pack your orders individually into bio-degradable bags, ready for DHL or FedEx to pick up. Allow 4-7 working days from uplift to delivery to your door.
Orders arrive in layers of codes, colours & sizes, ready to sell from the box.
If selecting fabrics from our stock, orders are usually dispatched in 4-6 weeks.
Requesting fabrics to be imported in plain & or print, timelines on request.
To place any bulk order PO, select one of the two ways below.
Fill in our Dummy Order Form to verify that your amounts placed match our MOQ. We then assist you in adjusting the totals & investment required.
Fill in our Bulk Order Form if you're sure of the exact units you will place in what fabrics, colours &/or prints. We will then send you an invoice. 


See some typical bulk invoice values

One of the most important decisions you'll make will be your selection of fabric & colour or your decision on print. As we always hold in stock approx. 50,000 meters of the latest trending colours, selecting from our ready dyed in-stock fabrics, is the most popular way to work.
Any colour not held in stock can be imported via weekly flights to Bali.
We suggest purchasing a fabric pack to feel the textures & flexibility of all of our fabrics, or simply request a call back with one of our specialists to assist.
See the huge array of fabrics we hold in stock & those we can import on request.

Adding custom prints to a swimwear collection is something we handle for many of our clients. We offer a true digital print service on super soft Nylon REPREVE™ using Italian MS machines due to the colour saturation being true to eye, colours deeper & richer in tone that never fade or wash off. Allow 2 to 3 weeks to process & land.
However, if you're short on time and looking for a speedy solution, we print via sublimation in Bali using VITA PL/ECONYL®, recycled Polyester from Carvico.
Only requires 2-3 days, whether samples or bulk, to process.
Note
Most brand owners purchase prints online, reducing a task that's both costly & time-consuming to one that can be completed in one hour at a minimal cost.
Read our section on how to add custom digital prints
Custom Branding & Accessories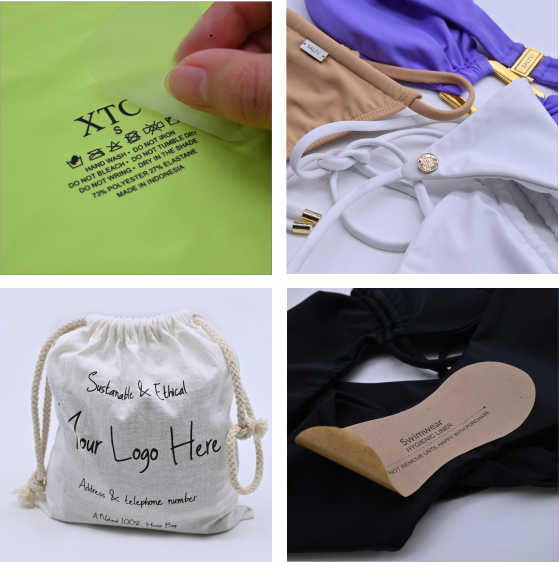 Adding high-quality accessories to your collection will play a huge role in your brand's final look, increasing sales & ultimately your success.
We add your brand logo & sizes to your care label, which is heat-pressed into the inside back of each article. Also, metal clips, hygienic liners & packaging can be custom branded, adding bling, quality & style to your collection.
We then mock up your artwork on your designs to be sent back for your approval.
Notes
Samples heat presses are only available in black and white using our in-house printer for size & placement approval only. When it comes to bulk orders, we import using higher-grade machines in any colour on request.
All heat presses must be in our hands before starting any order.
Read more on Branding & Accessories.
As we know, timelines can be confusing. If such articles as heat presses, branded accessories, & plain & printed fabrics must be imported, taking 3-4 weeks. Then, to produce any bulk PO, we require 3-4 weeks.
However, these times are not compounded. 
Whilst we are importing, we are preparing patterns & any fabrics in stock to cut & as soon as anything lands. We then add your heat-press to the fabrics & move them to the production facility the next day.
Prepare your heat-press Logo & any custom branding requests as well as any custom prints ready formatted; then we are miles ahead.
Take note:- Most brands working on repeat orders prepare everything mentioned above before placing their bulk order.
Requesting plain dyed fabrics not in stock, timelines on request.
Patterns are created digitally using 2D AutoCAD software, far more accurate than working with traditional paper patterns.
We work using International body sizes.
Be sure to check out our Body Size Guide
Each article goes through three quality checks before being approved for dispatch by a team of professionally trained QC Experts.
Even less than 1% of articles are ever rejected; we strongly suggest seeking external quality control. Costs are minimal; taking less than a day &, you can expect your order to arrive flawlessly.
Rebecca Jane has been handling external QC requests for years & will only notify you if issues are identified.
She was the designer for Victoria's Secret & has a degree in fashion design.