Ethical Swimwear.
Made Easy.
Easy steps on how to create your own Sustainable Swimwear Brand
Ethical Swimwear.
Made Easy.
Easy steps on how to Create your own Sustainable Swimwear Brand
All Designs, Videos and Prints, the creation of Swimwear Bali
Your Own Brand in 4 Weeks
In the last 30 years, we have manufactured custom-made swimwear produced using imported Italian Carvico®, ECONYL®, and US REPREVE®, as well as our own special blend Reclaim Prime, all 100% certified recycled. Our objective is to provide start-up and established brands with the highest quality swimsuit at the lowest price, produced in the shortest time possible.
Being the only bonded Tax-Free company in Bali; nobody beats us when it comes to price. We save 35% on import taxes when importing premium-grade overseas fabrics that all other Bali Swimwear manufacturers must pay unless they offer you local Bali fabrics.
Take note
The first quarter of 2023 saw sales increase by a record 50% on last year. If you have your handover of designs ready to price, send it to our communications team, who will go over & ask about anything that needs clarification. In 2 to 3 working days, you'll hear back with our best possible price for a premium quality product. Then, whenever you're ready, we can start assembling your samples at a moment's notice.
We give back: With every order, we donate to Bali Street Mums dedicated to helping mums and children who scavenge their livelihood from garbage dumps get out of the cycle of despair into a halfway home with good education, health, and living standards.
"Love your body, love the planet"
We know the planet's resources aren't infinite, which is why we use certified recycled fabrics in virtually 100% of our products, upcycled from salvaged fishing nets & plastic ocean waste, keeping our oceans and marine life that much healthier.
Our dyes are all eco-certified, and packaging is produced using cassava starch. We offer you a low carbon footprint production cycle, allowing you to rightfully claim your brand to be both eco-friendly  and sustainable.

For every 10 tons of Recycled fabrics, we use
Quick Start - 3 Ways to Handover
Quick Start
3 Ways to Handover
The first thing we do is estimate your prices.
All we require are your selected designs to be made in what fabric in either plain or print. At this stage, don't bother yourself with the exact colours or prints; such issues will be handled only after you have approved our prices.
Your selected designs may be all of your own custom shapes, all from our ready-to-order ones, or a mix of both.
With the combinations of possible designs and the vast array of colours at your disposal, your final swimwear line can easily be as iconic as any other swimwear brand you care to mention.
2. Ready Designs
You can see our latest 2023 Ready-to-Order designs here.
Simply select the styles you love and add them to this form to request samples or place an order.
Take note.
Any of our designs can be edited for a fee of USD 30, for example, by making a bum coverage more moderate or cheeky, adding cups, wires, etc.
3. Mix and Match
You can select to combine some of your custom designs with some of ours. Once done, please email us your screenshots and our product codes. Confused? See an example handover here.
In 2 to 3 days, you'll hear back with our most competitive price for a premium quality product. 
You will find more on how to do this on our getting started page.
Below are examples of pricing using high-quality imported recycled fabrics.
Expect a resale value of 4.5 times our prices; ex US11.50 sells for approx $49.00
You are in this to make money, so take the time to compare our prices with those of other Bali Swim producers requesting imported fabrics rather than low-quality, locally sourced fabrics.
A typical order of 300 units with us using imported recycled fabrics will only buy you around 200 units with any other Bali Swimwear manufacturer.
We offer a low minimum order of 300 pieces per bulk order worldwide, 30 pieces per style, and three pieces per size, colour, and print.
If you would like to mix and match some of our designs with some of yours, then the MOQ remains the same.
Also, for those seeking to Mix & Match some Swimwear & Activewear, the MOQ is 500 pieces.
See examples of costs & expected resell values for an order of 300, 500 & 1,000 pieces.
We offer the largest range of swimwear fabrics in Bali, including over 50,000m of recycled Italian and American fabrics in stock in 85 colours allowing us to cut your orders the day we receive them, not waiting weeks for fabrics to be imported. Also, we offer some of our own unique blends, such as Reclaim Prime, Pucker, Ruched, Eco Laser Knit and Generic Lurex. 
If your desired colours are not in our stock, we import them in rolls in 70m lots per colour or print.
The vast amount of prints we handle overseas digitally using OEKO-TEX® certified eco ink being far softer & superior to anything printed in Bali using local sublimation machines on Vita PL.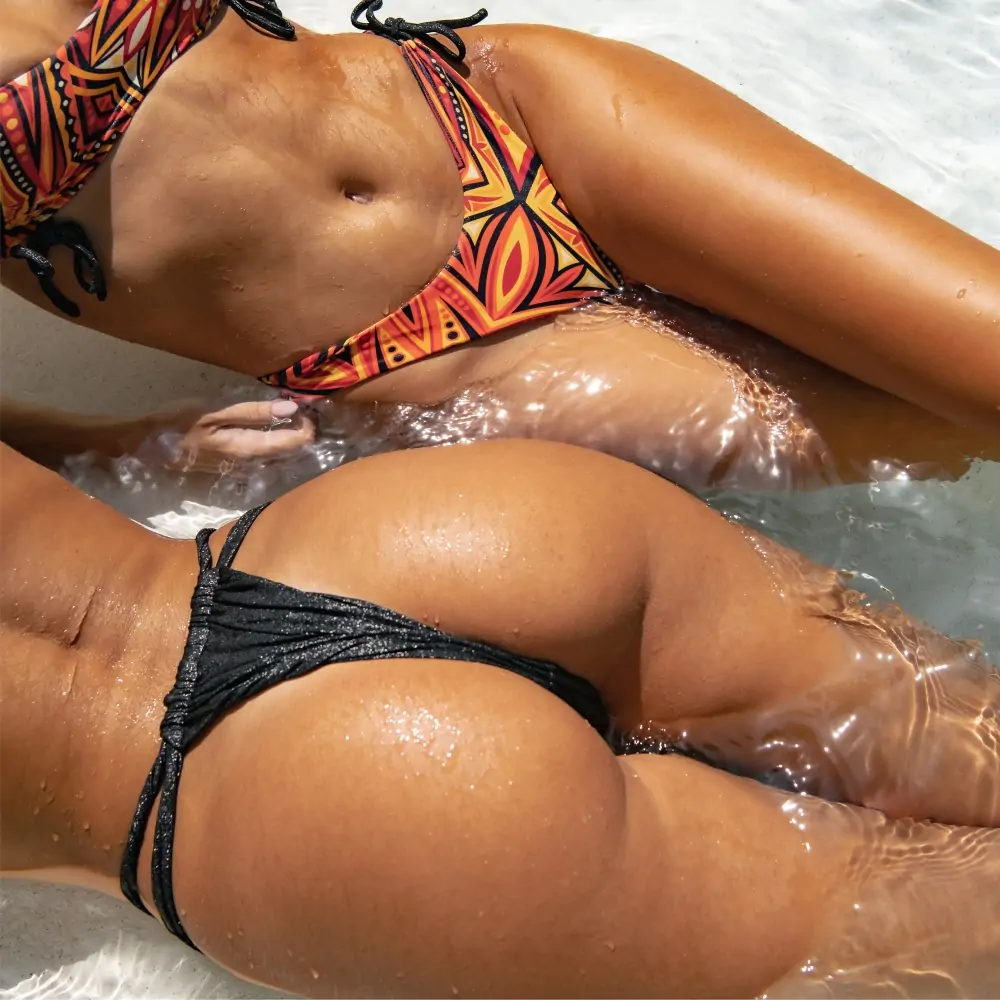 Our core business is the production of custom-made swimwear designs to clients' requests.
This are assemble on speciality machines to ensure cups fit snuggly, wires never poke through, and straps don't twist or buckle, giving support where needed. Swimwear is constructed similarly to how intimates are produced to ensure they fit like a second skin with all the required body-enhancing properties.
We needle stitch in 5mm seams, following the exact contour of each design.
Also, if you require some inspiration, we have a great selection of ready-to-order designs shot in Jan this year selected from our best-sellers of early 2023 and our knowledge of what will be trending well into Spring 2024. Simple select the styles you love to be produced in which fabric, colour, or print & your all set.
All we then have to do is to add your custom logo as a heat press to the inside of each piece to make our designs individually yours. Any design can be produced in any fabric, colour, or print and can be altered, for instance, by making the bum coverage more moderate or cheeky, adding cups, wires, etc.
If you don't know where to start, why not buy a swimwear starter pack produced using the highest grade of imported recycled fabrics, either in digital prints or plain black?
Each pack includes everything you need to create your own swimwear collection.
A real sample of our swimwear production is the best way to know how it fits and grades, as well as the quality of our work.
We have assembled some fabric swatch packs to allow you to feel the hand feel, softness, and texture of each fabric on our site and be able to view more clearly all of the colours you can select from using their corresponding laser copy colour cards.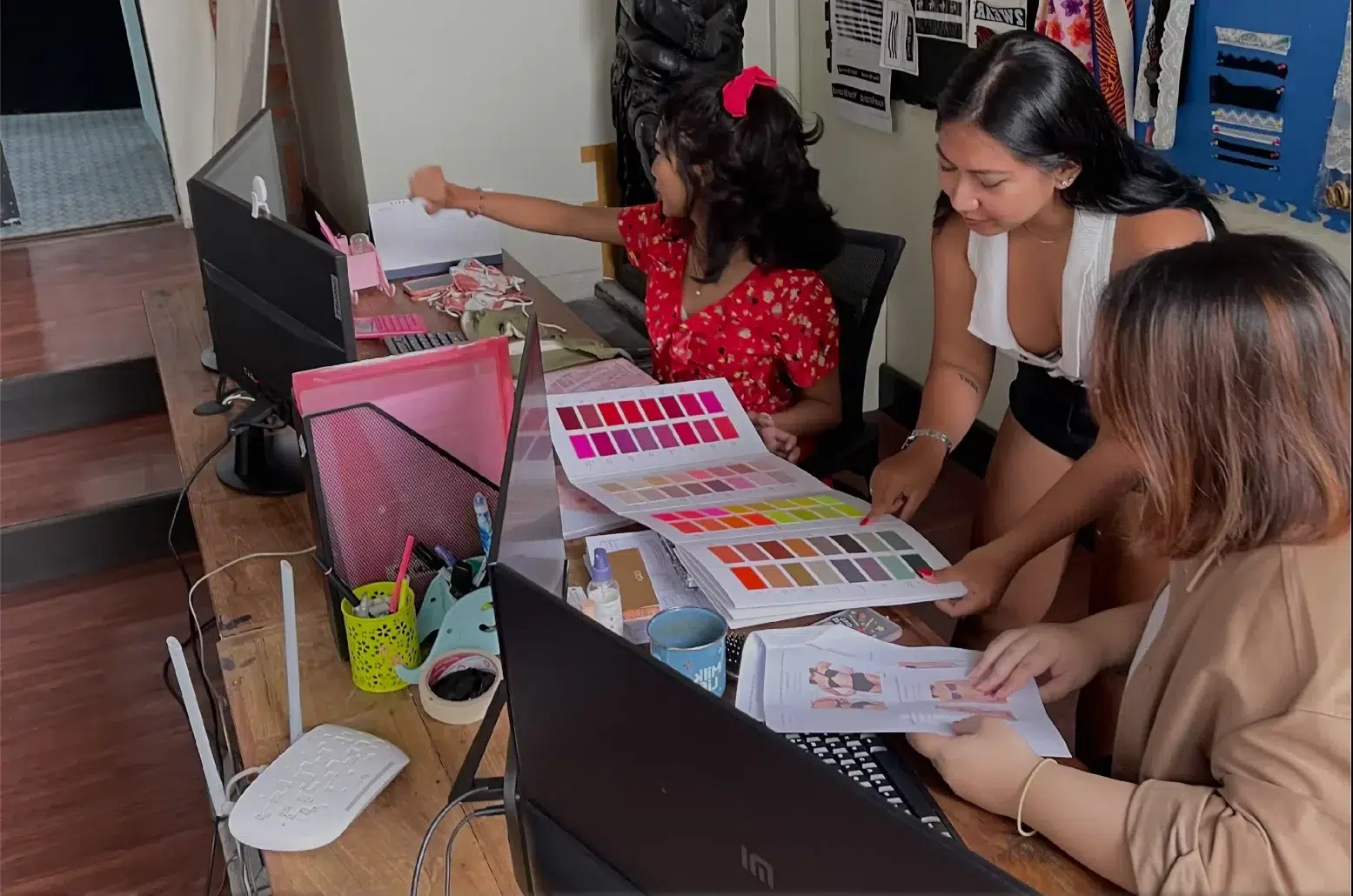 Feel free to contact us with any questions or requests by completing the form below.
You can write us a few words or send us some images of the styles you would like us to produce, and we'll get back to you as soon as we are at our desks.