Ethical Swimwear.
Made Easy.
Easy steps on the creation of a Sustainable Swimwear Brand
Ethical Swimwear. Made Easy.
Easy steps on how to create a Luxe Sustainable Swimwear brand
All Designs, Videos and Prints, the creation of Swimwear Bali
We've been manufacturing custom-made swimwear for over 30 years, incorporating imported Italian Carvico®, ECONYL®, and US REPREVE® recycled fabrics. Our aim is to provide start-up and established brands with the highest quality swimwear of any supplier globally at the lowest possible price, produced in the fastest amount of time.
Price-wise, nobody beats us. We are the only bonded Tax-Free company in Bali, allowing us to import high-grade Italian and American fabrics, saving 35% on the import tax that all other Bali Swim suppliers must pay.
If you're looking for some inspiration, why not pick your styles from our best-selling designs of 2022 and our knowledge of what's trending well into the summer of 2023 from our ready-to-order collection. Select the pieces you like and add your own custom branding, and you're ready to start selling. 
We give back: With every order, we donate to Bali Street mums dedicated to helping mums and children who scavenge their livelihood from garbage dumps get out of the cycle of despair into a halfway home with good education, health, and living standards.
Free phone consultation: We are here to assist with free callbacks should anything be unclear or need clarifying.
With increasing numbers of consumers choosing sustainable swimwear brands, there's never been a better time to get started than now.
Please take note
Orders for 2023 have again reached record levels. With your samples approved, don't delay in placing your bulk orders. With so many of the brands we manufacturer for selling out as fast as we can produce, it's more than important to get your bulk order over as soon as you have approved your samples.
"Love your body, love the planet"
We know the planet's resources aren't infinite, which is why we use certified recycled fabrics in virtually 100% of our products, upcycled from salvaged fishing nets & plastic ocean waste, keeping our oceans and marine life that much healthier.
Our dyes are all eco-certified, and packaging is produced using cassava starch. We offer you a low carbon footprint production cycle, allowing you to rightfully claim your brand to be both environmentally friendly  and sustainable.

For every 10 tons of Recycled fabrics we use
QUICK START – 3 WAYS TO HANDOVER
QUICK START
3 WAYS TO HANDOVER
The first thing to do is estimate your prices.
Whether you're building a brand from scratch or adding to an existing range your already working with, all we require are your selected design, fabrics, colours and prints.
These can be your own custom-made or our ready-to-order ones, or a mix of both. With the combinations of possible designs and the caste array of colours, once complete, your Collection will be as iconic as any brand you care to mention.
3. Mix and Match
Choose to combine some of your own custom designs with some of ours, then send your screenshots and our product codes to us in an email.
See an example handover. 
Once received, in 2 to 3 days, you'll hear back from us with our most competitive price for a premium quality product.
For more in-depth info, check out our getting started page
Below are examples of pricing using high-quality imported recycled fabrics.
Expect a resale value of 4.5 times our prices; ex US11.50 sells for approx $49.00
You are in this to make money, so take time to compare our prices with those of other Bali Swim producers requesting imported fabrics rather than low-quality, locally sourced fabrics.
A typical order of 300 units with us using imported recycled fabrics will only buy you around 200 units with any other Bali Swim producer.
We offer top-quality products at the best possible prices.
We offer a low minimum order of 300 pieces per bulk order worldwide, 30 pieces per style, and 3 pieces per size, color, and print.
If you would like to mix and match some of our designs with some of yours, then the MOQ remains the same. 300 per PO.
See some examples of typical purchase orders and how they work by adding designs, colors, and sizes
We offer the largest range of swimwear fabrics in Bali, including over 50,000m of recycled Italian and American fabrics in stock in 85 colours allowing us to cut your orders the day we receive them, not waiting weeks for fabrics to be imported. Also, we offer some of our own unique blends, such as Reclaim Prime, Eco Rib & Pucker, Ruched, Symphony and Generic Lurex. 
Colours not in stock are imported in rolls of 70m per colour or print.
Fabric printing is handled overseas digitally using OEKO-TEX® certified eco ink, which is far superior to printing in Bali using sublimation machines on Vita PL.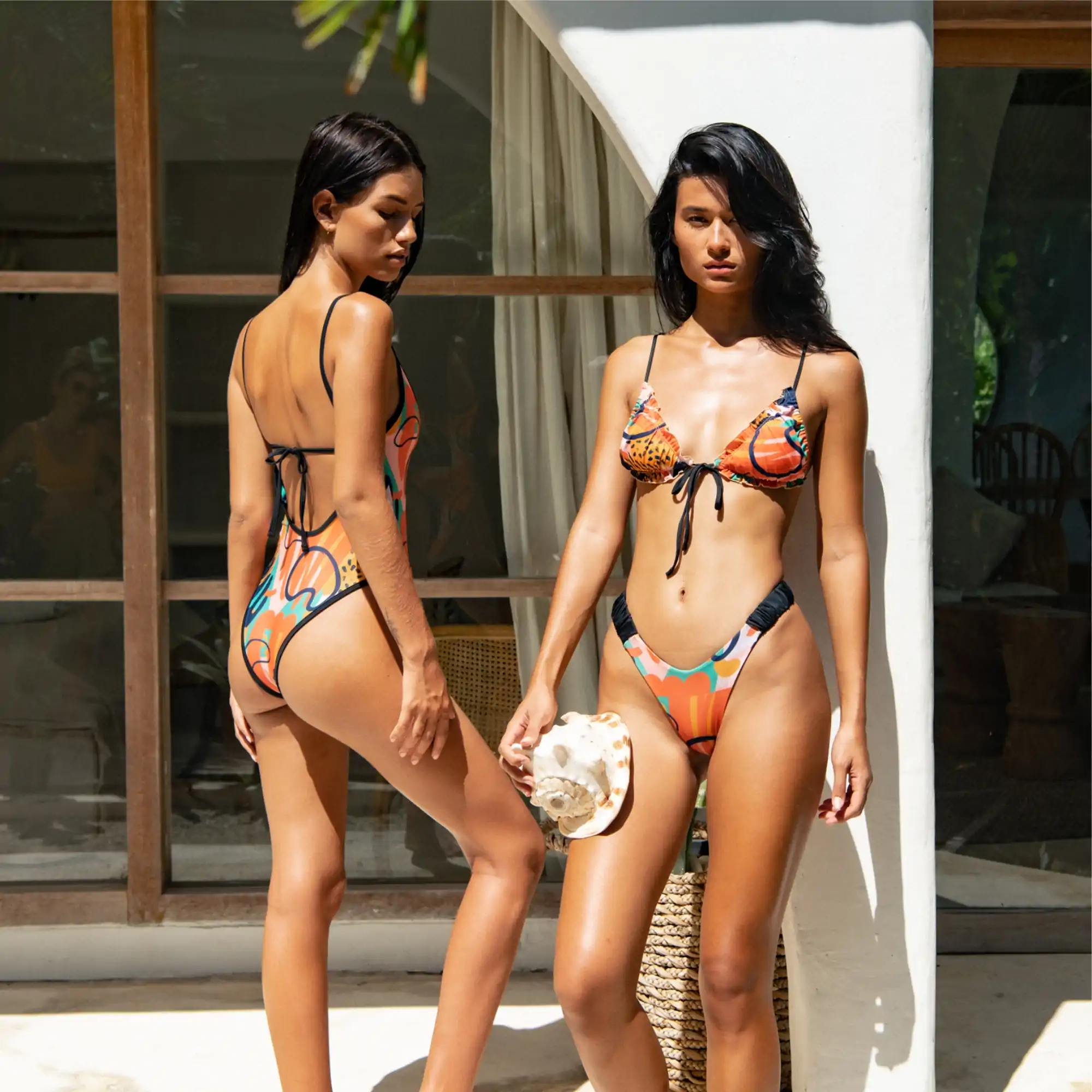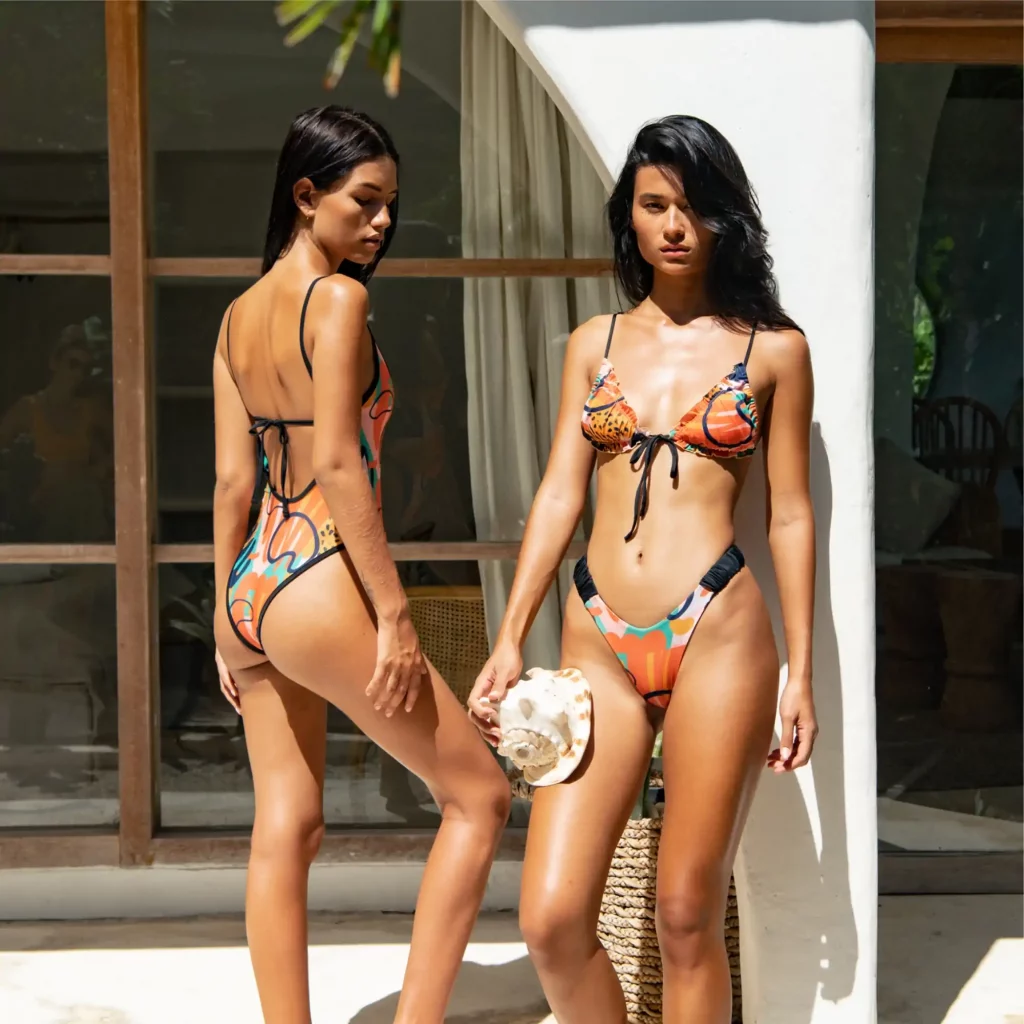 Our core business is the production of custom-made swimwear designs to clients' requests.
We assemble custom swimwear designs on speciality machines to ensure cups fit snuggly, wires never poke through, straps don't twist or buckle, giving support where needed. Swimwear is constructed similarly to how intimates are produced to ensure they fit like a second skin with all the required body-enhancing properties.
We needle stitch in 5mm seams, following the exact contour of each design.
Our 2023 Ready to Order Collection was assembled using our best-selling shapes and our knowledge of what's trending well into Summer 2023.
Select the designs you love and add some custom branding, and they're ready to sell. We conduct extensive research on style, colour and fabric textures to ensure our designs follow what will be coming next season.
Any design can be produced in any fabric, colour, or print and can be altered, for instance, by making the bum coverage more moderate or cheeky, adding cups, wires, etc.
If you ever dreamed of running a sustainable, eco-friendly swimwear brand, then our starter packs offer an inexpensive way to get started. You'll find all the tools and resources needed to create a collection that looks amazing in-store or on any website.
These starter packs have helped many young entrepreneurs launch their own brands from scratch. If you want to know the quality of our work and how we fit and grade, these packs offer a fast and easy way to get started.
Selecting the right fabric with the desired texture and hand feel in either solid colors or prints is critical to the success of any brand. We have therefore assembled a fabric pack with one swatch of each fabric shown on our website, allowing you to feel their individual textures & better understand each fabric's characteristics.
DHL to your door, USD 65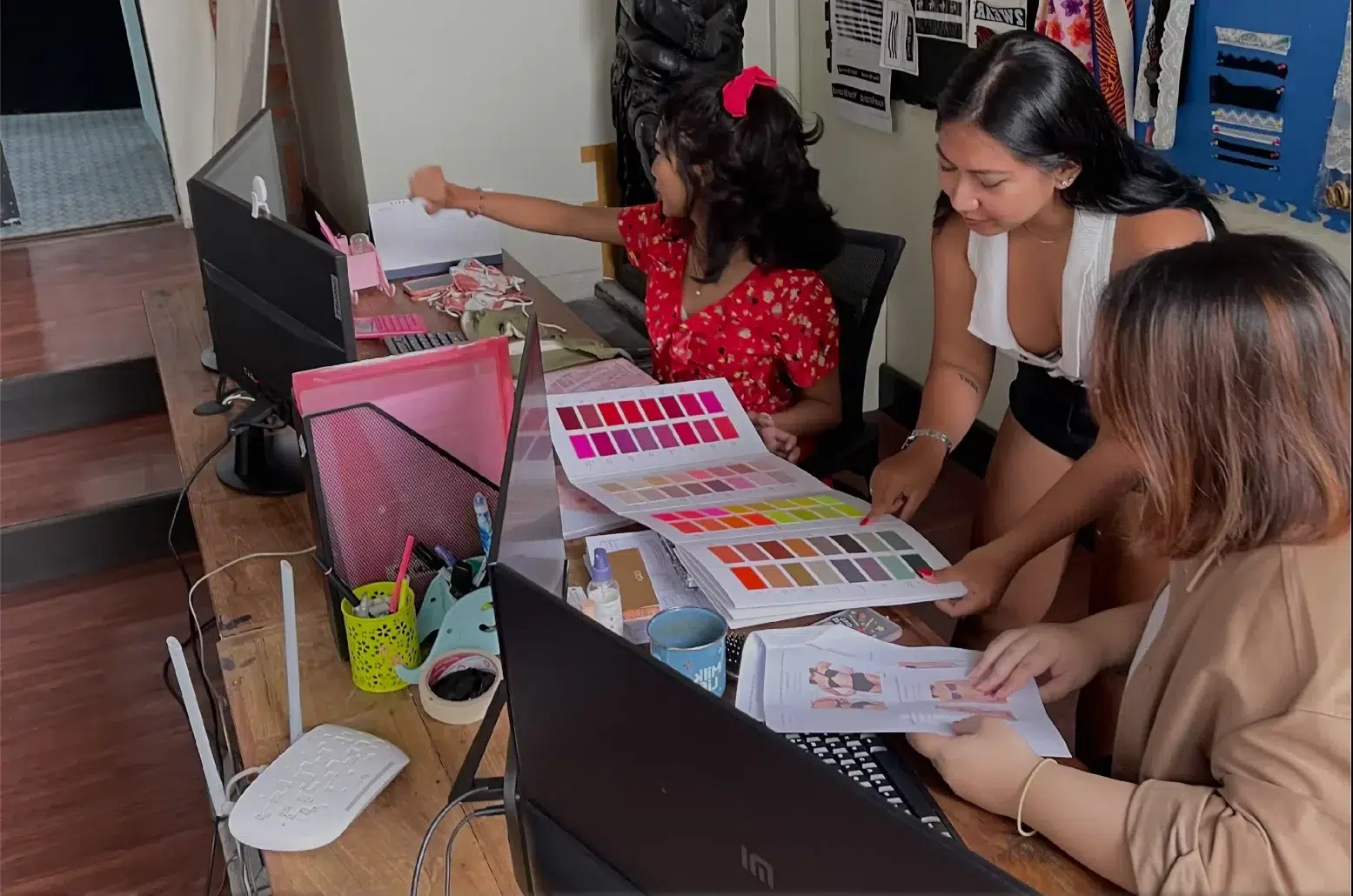 If you have some questions or requests, get in touch with us by email using the form below. Write a few words and we'll get back to you with a reply, as soon as we open.