Producing samples to request is something we have been handling for 30+ years. Our sampling studio consists of 40 experienced personnel producing samples for both custom-made & ready to order designs.
If your handover of designs is clear & easy to understand, then, in most cases, samples are going out near perfect from the first round of sampling.
If you haven't already priced your collection, then do so here.
Once you have your prices & have paid your invoice, you'll be contacted by a sample specialist to discuss any parts of the handover she requires clarifying.
She'll be with you to answer any questions, either by email, text, or phone call, throughout the entire process to the point your samples are  in your hands with your approval to proceed to bulk.
You may request a free video callback with your merchant anytime to discuss anything you're unclear about.
You can request samples produced in any fabric & colour on our website as well as any print.
Custom Samples – Allow four weeks when selecting from stock fabrics.
Ready To Order Designs – Allow 2-3 weeks selecting from stock fabrics.
Should you desire samples produced in colours, we have to import, then timelines on request, as we have to check with the fabric suppliers first.
Prints are handled digitally overseas & may add an extra week to your sampling timeline.
If you want the best, allowing a little more time to produce your samples is sure to see them arriving as expected without having to remake.
Notes
Sample prices inc high-quality non-branded accessories, many of which can be branded for your bulk order.
In most cases, samples are produced in one size.
Once your samples are complete, before dispatch, we send you photos in case you notice any last-minute changes required.
Samples are charged at twice our estimated price plus a USD 30 management fee per style, all-inclusive to the finished article, including stock accessories.
For example, a Swimwear bottom priced at $12 USD, will be charged at 2 X $12 + $ 30 = $54.00.
Top Tip
It's recommended to request two sample sets. The second set is only charged at one time the estimated price with no management fee saving time & money in sending samples via courier back to start your bulk PO.
Before starting your samples, you should have your Logo artwork to hand, which we will use to heat press your brand name into the inside back of each article.
We use a simple in-house printer for samples for size & placement approval only. When it comes to your bulk order, we import your heart presses produced using higher-grade machines that will never flake or crack under normal conditions.
Read more on Branding & Accessories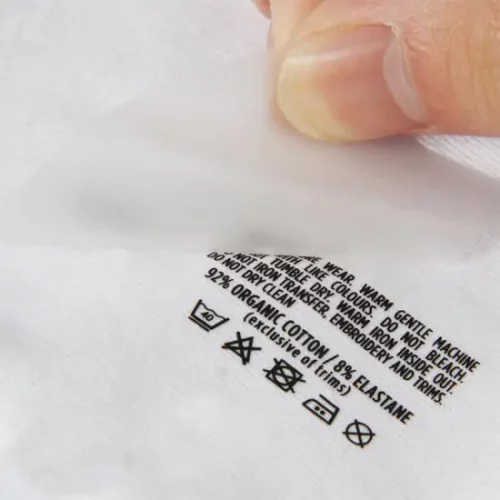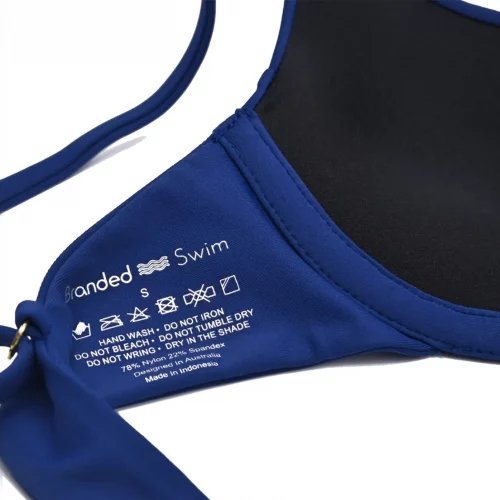 Once you have paid your sample invoice, we mockup your entire Collection free of charge, a great way to visualize your final Collection on a 2D model.
TYPICAL CUSTOMER HANDOVER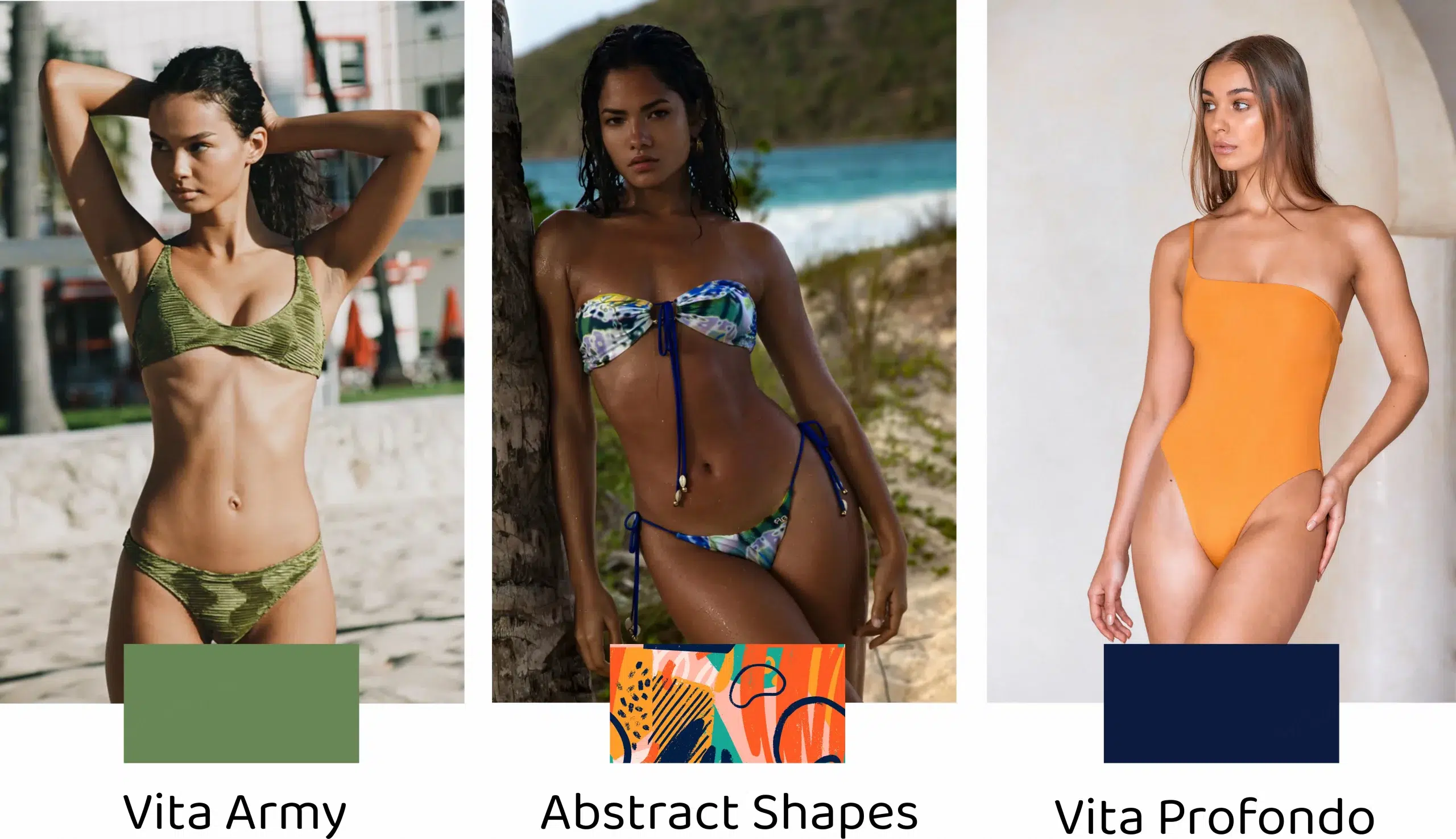 HANDOVER, MOCKED-UP BELOW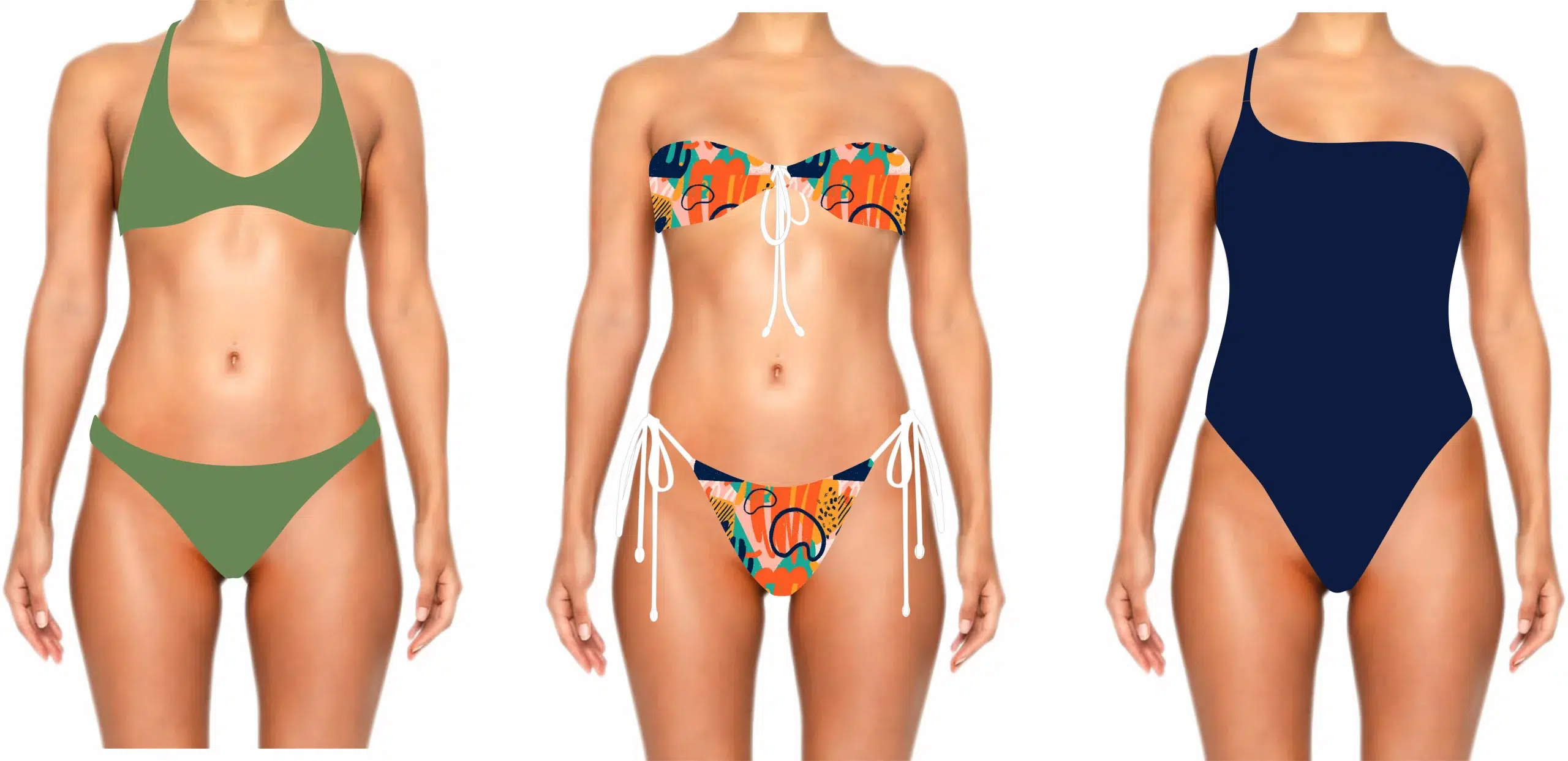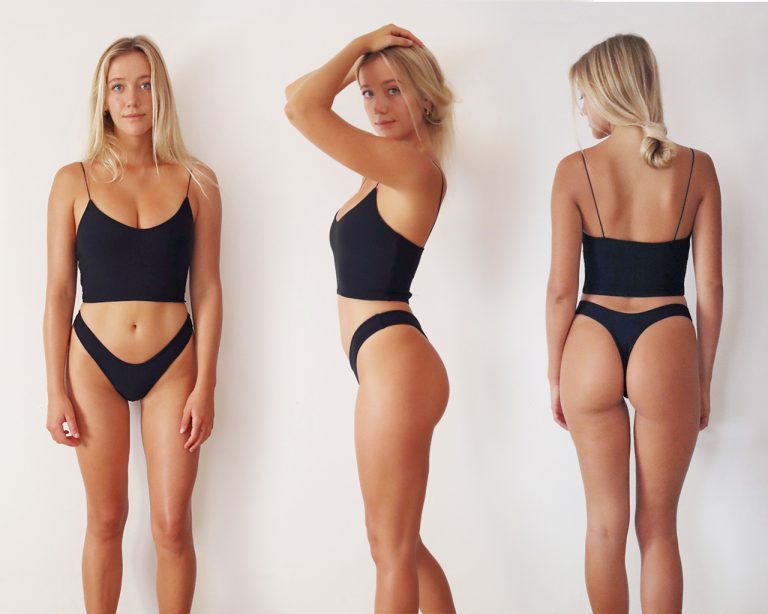 We offer a fit service via a live video call on a professional size small fit model.
Seeing your Collection on a fit model whilst chatting to her about each design and how she feels they feel & fit is a great way to ensure your Collection is spot on before being dispatched.
Your merchant will also be on the call, taking notes on any changes requested.
Cost – USD 85 for 30 minutes.
To organize, contact the model agency or contact us
The peace of mind in knowing your designs fit perfectly, could be the best investment you ever make.
SIZE GUIDE & DIGITAL PATTERNS
We create your patterns digitally using 2D AutoCAD software, far more accurate than working with traditional paper patterns allowing us to make incremental changes as well as grade up or down a full or half size on request almost instantly.
We suggest checking our size guide to ensure our specs & grades fit the market you're selling to. If you skip this & find your samples are too large or small, then remakes are chargeable.
If your samples arrive and are obviously different from your handover, in most cases, we remake them free of charge.
We dispatch your samples via FedEx or DHL. Both couriers arrive daily at our office, picking up & dropping off packages.
Allow 4-7 working days from dispatch to your door.
Read more about dispatch & delivery