At Swimwear Bali, we create both custom designs & our own ready-to-order ones, produced by a team of 60 specialists, all with at least ten years of experience assembling swimwear samples. These include pattern makers, tailors & seamstresses, merchants & assistants.
To start assembling your collection, we only require to know the actual designs to be made in what fabric & size. That's all. Mostly, samples are produced in their selected fabrics using stock colours, most commonly in black in one size, normally small. Black shows irregularities far better than any other colour
As soon as you are ready, we'll send you an invoice. Once paid, you'll be assigned a Swimwear specialist who will walk you through any issues that she needs clarification on from your handover.
Top Tips
Organizing a callback with your merchant often resolves issues quicker than back-and-forth emails or WhatsApp.

While sampling, consider whether you will customize accessories or add prints to your bulk order. As sampling normally takes at least four weeks, using this time will save much time later when you come to place a bulk PO. First, create your custom logo that you will use for your heat-press, as well as bikini clips, packaging, & hygienic liners. Now's a good time also to work on any prints you want to add.

Whether you or your graphic designer will handle this, we require all artwork in vector format in EPS, PDF, CDR, or JPEG, 300 dpi, repeatable, and to scale. Don't worry if this sounds like mumbo jumbo. Our skilled graphic designers are here to assist & make sense of it all.
Once samples are ready for dispatch, your merchant will send some clear, high-resolution photos for your approval before DHL picks them up.
Notes
If your handover is clear & easy to understand with notes on any required changes, we often see samples produced much faster with samples approved in the first batch.

Samples can be produced in any fabric and colour on our website.

In most cases, we produce max 12 samples in one size.
Read more about customizing accessories
Custom-made Samples are charged at twice our estimated price plus a USD 30 management fee per style, all-inclusive to the finished article, and stock accessories.
For example, a Swimwear bottom costing USD 12 will be charged 2 X $12 + $30 = $54.00.
Sample prices include high-quality, non-branded accessories, many of which can be branded for your bulk order.
Ready-to-order samples are only charged twice the wholesale price with no management fee.
When producing two sets, we charge only the estimated bulk price without a management fee for the second set. When you order just one set, you have to send them back to us to use against your production order, plus courier fees and import taxes into Bali, making two sets cost about the same as one.
For example, making a second set, a swimwear bottom costing USD 12 only costs USD 12.
In the case of two sets, the set in our office is used to compare against the first cuts in your production.
Once you have paid for your samples, we offer a free mock-up service, allowing you to visualize how your designs look on a 2D model in your selected colours & or prints.
This allows you to make any last-minute adjustments before we start cutting the fabrics for your samples.
The first thing to do is send over your branded logo, washing instructions & size guide, which we use to heat press to the inside back of each item, so make sure to get this minor task out of the way at the start. You can select one of our templates or present your own.
You can handle this later if you don't require a heat press for your samples. 
Samples are heat-pressed in-house using a small desktop printer for confirmation of size and placement only. These may flake or peel after a few washes. When it comes to bulk orders, we import them using the Lululemon factory, produced on much higher quality machines that never flake or crack under normal conditions.
In most cases, samples are produced in 4-6 weeks, depending on the time of the year (holidays, etc.) & the number of samples we have in the queue. We suggest confirming with our communications team or your merchant what the estimated time required will be once you have approved our prices.
We work with international body sizes & grades, using digital 2D auto CAD software as it is far superior to working with paper patterns. Our sizes & grades are suitable for most global markets. However, some countries consider our sizes smaller than theirs. You can check our Size Guide & on request, we can grade up or down half or a full size or more.
Before we send your samples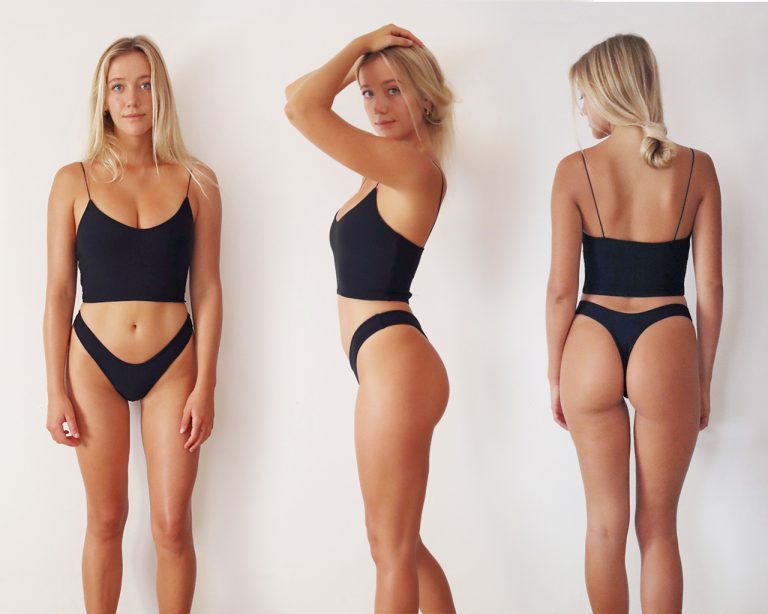 If you would like to see your samples fitted before dispatch, we can call in a western-size fit model who will, during a live video call, try on each of your designs with your merchant, taking notes. Working this way, you will observe first-hand how your styles look when worn, be able to speak to the model, ask her how they fit & feel, etc. & if required, request any last-minute changes.
As the cost is minimal compared to remaking samples, courier fees, etc., many brand owners select this service.
Costs USD 85 for a 30-minute session.
Samples are sent via FedEx or DHL using our company account or yours. Both arrive daily at our office, picking up and dropping off packages.
Allow 3-5 working days from pickup to delivery to your door.
Read more about dispatch and delivery.
In almost all cases, samples are approved the first time around. However, if your samples arrive significantly different from what you handed over, in most cases, remakes are free. Small edits are handled using digital auto cad software, which takes minutes rather than weeks in remakes. 
We recommend checking the above size guide to ensure our specs and grades fit the market you're selling to. If you skip this step and your samples arrive too large or small, you will be charged for remakes.
Save time and money on Sampling
If you're selecting from our ready-to-order designs, you can skip sampling altogether and move directly to placing a bulk PO, saving time & money in the sampling process. You will receive exactly what you see in our catalogue in your desired colours & prints, so consider the savings.
If this sounds like you, add your selected designs as codes to the Direct to Bulk Form. You may also send the designs you want to produce as screenshots with notes on colours & fabrics & send them over via email.
Once received, a member of our team, who specializes in handling bulk orders, will get back to you to confirm that your order meets our MOQ.
See the latest 2024 S/S Swimwear Ready to Order Collection
To know more about branding our designs with your logo, visit our Branding and Accessories page.
Mixing Fabrics & Colours
We only accept requests for samples in max two fabrics and three different colours. For example, a Swimwear one-piece using a fabric for the outer & another for the lining in three colours.
Last Word
Once you have your samples & have approved them, it's time to send over any artwork for prints and any custom-branded accessories you plan to incorporate into your bulk order.
Read more about adding prints to your Collection.