The Importance of Starter Kits
Setting up your own swimwear brand can look complex to begin, starting with the vast amount of fabrics available, made from varying production processes and materials with infinite colours and patterns to match them, to hundreds of different matching accessories.
Because of this, we have made it easier than ever to start your own sustainable swimwear brand with our starter packs & fabric packs.
These have been assembled with the most popular fabrics, accessories, colours and prints available to help your journey become the owner of your brand & financial independence.
This is our complete kit, made to guide you through the entire selection process so you can feel and see the available options.
There are four available variants, with the only difference being the swimsuit you select. 
These kits include:
Bikini set or One-piece

Laser Copy Colour Cards

Fabric Swatches

Swimwear Accessories

Find more info on our Starter Packs.
This pack is more concise for customers who want to see how the fabrics see and feel instead of just on screen, as monitors can skew colours. 
This kit includes:
Laser Copy Colour Cards

Fabric Swatches

Find more info on our Fabric Pack.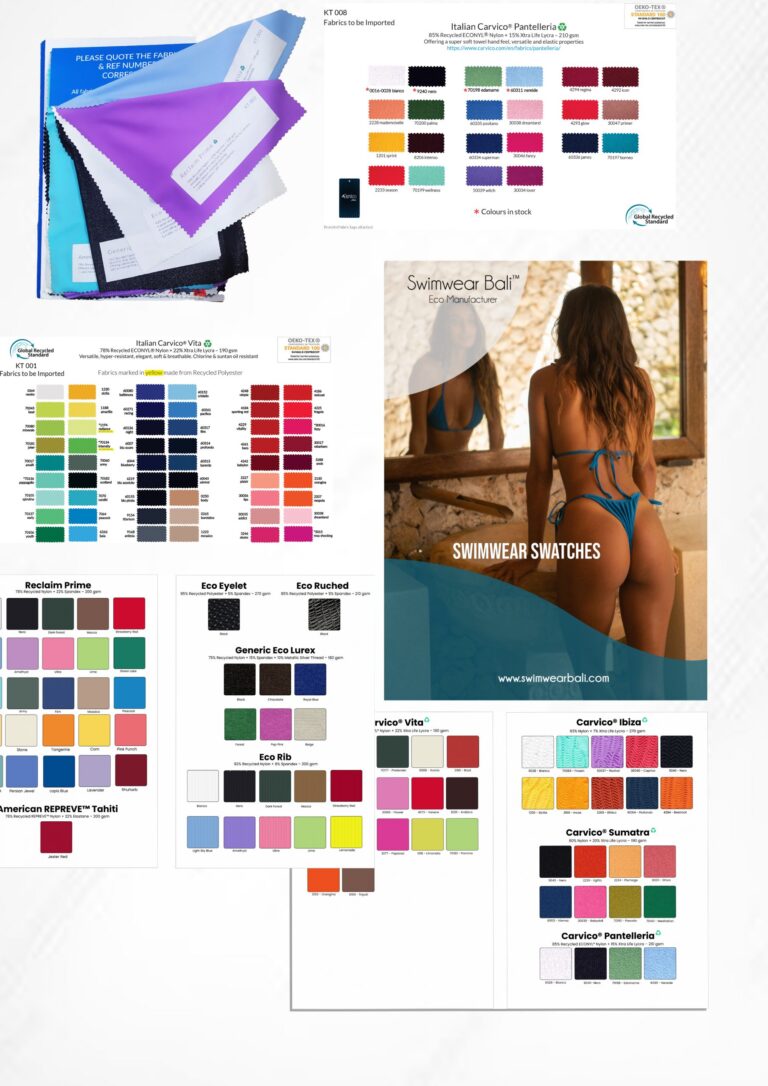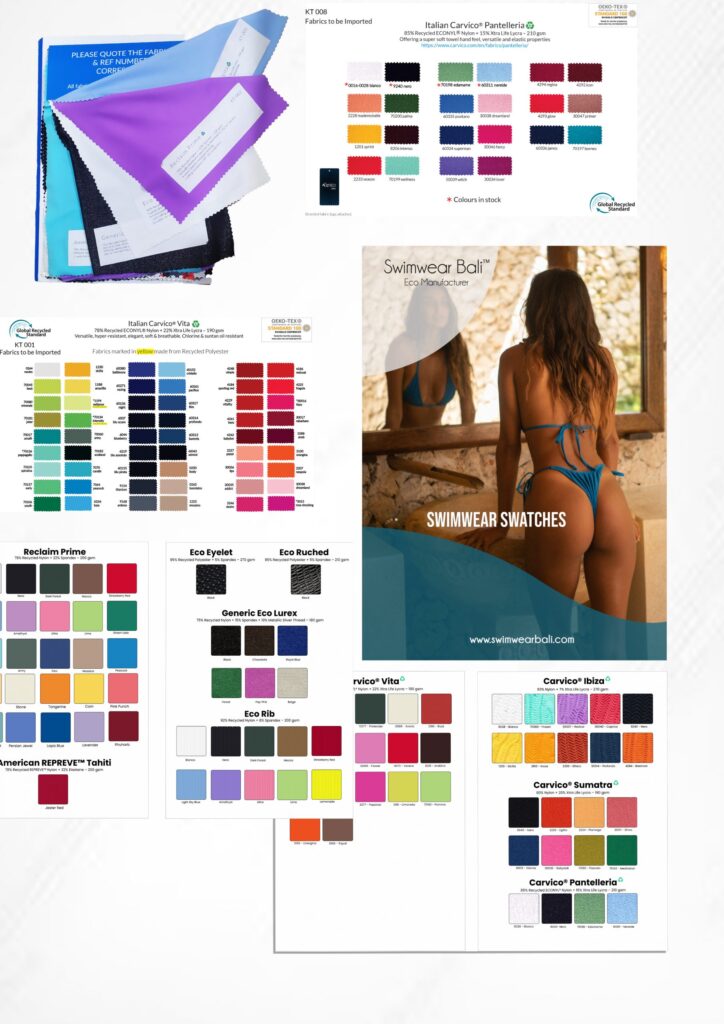 What are Laser Copy Colour Cards & why are they Important?
These are high-quality copies of the producer's colour cards and are essential tools for swimwear designers and brand owners.
With these, you can see real-life examples of all the colour cards on our Fabric page. Use these to help you choose & match the perfect colours when designing your collection. 
What can they help with?
Colour matching: When designing your swimwear collection, it's crucial to choose and match the perfect colours. Laser Copy Colour Cards allow you to compare different shades and tones, so you can make better decisions about colour combinations and ensure consistency throughout your brand.
Unexpected Variations: By using Laser Copy Colour Cards, you can avoid differences between what you see on the screen and the actual colours of the fabrics. This eliminates the risk of selecting a colour online and finding a difference when it arrives.
What are Fabric Swatches & why are they Important?
These are real samples of all the different fabrics available, vital to the success of a collection.
These are used to compare the overall feel and look of the fabric so you can better understand the fabric you will be working with for your collection.
What can they help you with?
Comparison: With Fabric Swatches, you can compare the overall look and feel of various fabric options side by side. This enables you to evaluate their different characteristics.
Quality assessment: Fabric Swatches allow you to assess the vibrancy and depth of colour and the silkiness and overall feel of the fabrics to ensure that the materials you select meet your quality standards and align with your brand's aesthetic requirements.
What information do they give you?
Fabric Composition

Texture

Vibrancy and Depth of Colour

Silkiness & Feel
Starter kits play a crucial role in simplifying the complex process of starting a swimwear brand. Our carefully curated starter and fabric packs provide the most popular fabrics, colours, and accessories, making it easier to begin your sustainable swimwear journey.
The starter pack includes a bikini set or one-piece, laser copy colour cards, fabric swatches, and swimwear accessories. It is a complete kit allowing you to feel and see all available options. On the other hand, the fabric pack is more suitable for customers who only want to see & feel the fabrics in person rather than relying on screens.