YOUR OWN BRAND IN 4 WEEKS
Our Collection of Ready-To-Order Designs was assembled using some of the bestselling shapes of 2022, as well as our knowledge of what's trending well into the Spring of 2023.
If you're seeking inspiration in designing your Collection, this is a great place to start.
In many cases, buyers select some of our designs and add some Custom designs of their own, or if they are pressed for time, they select all from our Catalogue & proceed directly to production
NOTES
Any design can be produced in any fabric, colour or print, making the possible combinations virtually limitless.
Should you request alterations, like making a bum coverage more moderate or cheeky, adding cups, wires, etc., in most cases, we can accommodate.
You can see most of our designs shot in our Campaign Video
Each design is patterned and graded to international sizes and fitted on a professional fit model. What you see in our catalogues is what you will receive in the colours &/or prints you requested.
Timelines
When selecting your colours from our stock fabrics, allow 2-3 weeks for samples & 3-4 weeks for production orders.
Requesting plain or printed fabrics to be imported, info on request
PRODUCING SAMPLES OR DIRECT TO BULK?
Even though our Ready-To-Order Collection has been patterned & graded to international body sizes & checked on a Fit Model, some clients still request actual samples
If that's you, we charge twice our estimated price, plus a USD 30 management fee per style. For example, a bottom at USD 12, is 2 X $12 + $ 30 = $54. Once you place your bulk PO, we credit back your management fee.
Selecting to skip sampling & place orders directly to bulk is far more popular due to the speed of producing orders, not to mention the savings. This has to be the fastest possible way to get up & running into your own sustainable women's swimwear brand. We always suggest checking our Body Size Guide to ensure our grading fits your target audience.
STEP 1 - BRANDING YOUR COLLECTION
The first thing we handle is your brand logo to add as a heat press into the inside back of each article.
We require this sent over ideally in Vector format in either EPS, PDF, CDR or JPEG, high resolution 300 dpi, as soon as you are committed to working with us. If you struggle to do this, send us what you have.
Also, we can brand metal clips, hygienic liners & packaging, adding some bling, quality & style to your Collection.
Note. Adding high-quality accessories to your Collection will play a huge role in your brand's final look, increasing sales & ultimately, your success.
Read more on Branding & Accessories
How to create a branded Logo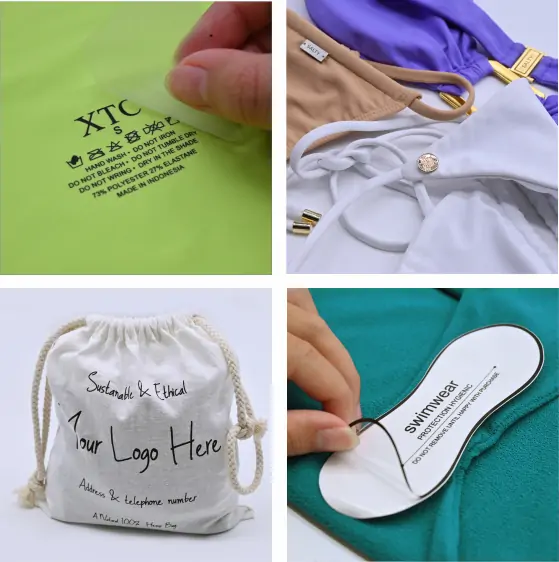 STEP 2 - SELECTING COLOURS &/OR PRINTS
One of the most critical decisions will be the fabrics & colours &/or prints you select. As we keep 50,000 meters of the latest trending colours in stock, selecting from our stocks has become the number one choice for many start-up brands on smaller budgets. Saying that, it's also quite common to see new brands select one or two colours or prints to be imported.
Imported fabrics are flown into Bali on weekly flights in rolls of 70m & must be used in total in your bulk PO. See the huge array of fabrics in stock & those we can import.
As selecting your fabrics without feeling what's available can be tricky, we suggest purchasing a fabric pack for $65, which includes one real fabric swatch of each of the fabrics on our website & corresponding laser copy could cards.
Adding Prints
We notice brands who add prints to their collections are gaining a faster foothold in the market. This could be for several reasons. Firstly, prints for 2023 are back on trend. Also, we are the only company in Bali offering a digital print service on Nylon; all others only offer a sublimation print on Polyester, never as soft as digital on Nylon, & colours nowhere near as true to the eye.
Digital print colours never fade or wash off. Allow 2 to 3 weeks to process.
If you're short on time and looking for a speedy solution, we print via sublimation in Bali using VITA PL/ECONYL®, recycled Polyester from Carvico. Requires 2-3 days, whether samples or bulk.
Purchasing prints online can reduce a task that's both costly & time-consuming to one that can be completed in one hour or so at a fraction of the cost.
Read how to add amazing prints for a few dollars in a few simple steps.
STEP 3 - PLACING YOUR ORDER
Once you have selected your designs, please take note of the codes & the fabrics, colours &/or prints you want them produced in & fill in our Bulk Order Form, and we'll send you an invoice. 
Download a PDF explaining how top brands add their plain colours into their prints, creating a look that's both harmonious & beautiful.
Mocking up your selected designs
Once you have made a payment, we mock up your Collection free of charge.
For the scenario below, we selected four bikini sets, a one-piece & two coverups.
These were then placed on a 2D model in some hypothetical colours & prints.
Being able to see your designs, colours & or prints in virtual 2D allows you to visualize more clearly, what your final Collection will look like on.
Dispatch & Delivery
We dispatch your samples & production orders via FedEx or DHL. Both couriers arrive daily at our office, picking up & dropping off packages. Allow 4-7 working days to your door.
Read more about overseas deliveries