Ethical Swimwear. Made Easy.
Easy steps on how to create your own sustainable Swimwear brand
Ethical Swimwear. Made Easy.
Easy steps on the creation of a sustainable Luxe Swimwear brand
All Designs, Videos & Prints, the creation of Swimwear Bali
Swimwear Bali established 30 years ago, – Bali's leading exporter of sustainable & ethical swimsuits, adding luxe quality importer recycled fabrics from Carvico®, ECONYL®, & US REPREVE® to your collections.
Price: We own the only Tax-Free Fabric License in Bali, saving 35% when importing fabrics that all other BS Bali Swim producers must pay.
Quality: All production orders are assembled meticulously, as we do for brands like Victoria's Secret, Bydee, & VDM.
Speed: Production orders are dispatched in just four weeks from the date of PO & deposit with your fabrics in our hands.
Sustainability: Almost all of the fabrics you can select from are upcycled from salvaged fishing nets & discarded plastic bottles with eco-friendly dyes & 100% biodegradable packaging. 
We give back: With every order, we donate to Bali Street Mums, a nonprofit dedicated to helping mums & children who scavenge their livelihood from garbage dumps get into a halfway home with proper education, health & living standards.
We are here to assist with free phone consultations if anything is unclear.
If you dream of becoming financially independent, we are here to make that a reality & help you set up your own sustainable swimwear brand.
As our first step is to price up your selected designs if you know which shapes to add to your Collection, the only question remaining is, "what fabric & colour, or print, should they be produced in?".
Take a look at a typical handover to see just how easy this first step is.
Four Ways to Handover
In 2 to 3 days, we'll get back to you with the lowest price for the highest-grade product.
Take note. Whatever you send over, we always get back to ensure that all is crystal clear before proceeding to sampling.
Any confusion? There's lots more info on our getting started page.
Expect to resell at least 4.5 times our price, ex, a Top US$11.50 ≈ US$49.00
You're in this to make money, so compare prices requesting imported fabrics, not locally sourced BS low-grade ones.
An order for 300 units with us only buys max 250 units from any other Bali Swim producer.
Example prices below all using high grade imported recycled fabrics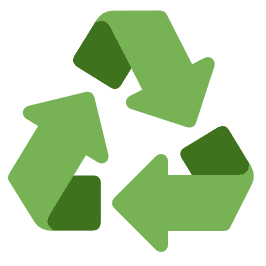 Custom Designs – We offer a low minimum order worldwide of 300 pieces per bulk order, 30 per style with 3 per size & colour or print.
Ready Designs – 150 per bulk order, 20 per style, with 3 per design colour & size.
Mix & Match – Mix up some of ours & some of yours; the MOQ is the same as custom designs.
Our core business is the creation & production of custom-made designs to clients' requests.
Whether seamless, reversible or double-sided, we assemble your orders using speciality machines to ensure cups fit snuggly, wires never poke through, & straps don't twist or buckle.
We needle stitch following the exact contour of each design in 5mm seams.
Our 2023 Swimwear Ready to order Collection was assembled using our best-selling shapes & our knowledge of what's trending well into Spring 2023.
Any design can be produced in any fabric, colour, or print and be altered, for instance, by making the bum coverage more moderate or cheeky, adding cups, etc.
We hold the largest Collection of imported luxe quality fabrics in our stock, some 50,000m in 75 colours from Carvico ECONYL® & REPREVE®, ready to cut at a moment's notice.
We also offer our own blends, such as Reclaim Prime, Eco Rib, Ruched & Generic Lurex, Eco-Symphony & Eco Pucker, that no other Swimwear manufacturers in Bali has. 
When it comes to printing, we digitally print using super soft Nylon on MS Italy digital machines using OEKO-TEX® certified dyes, far superior to any printing service you will be offered in Bali.
Fabric Swatch Packs
These packs contain one real fabric swatch of each fabric on our website allowing you to feel their textures & select your colours using the corresponding colour cards.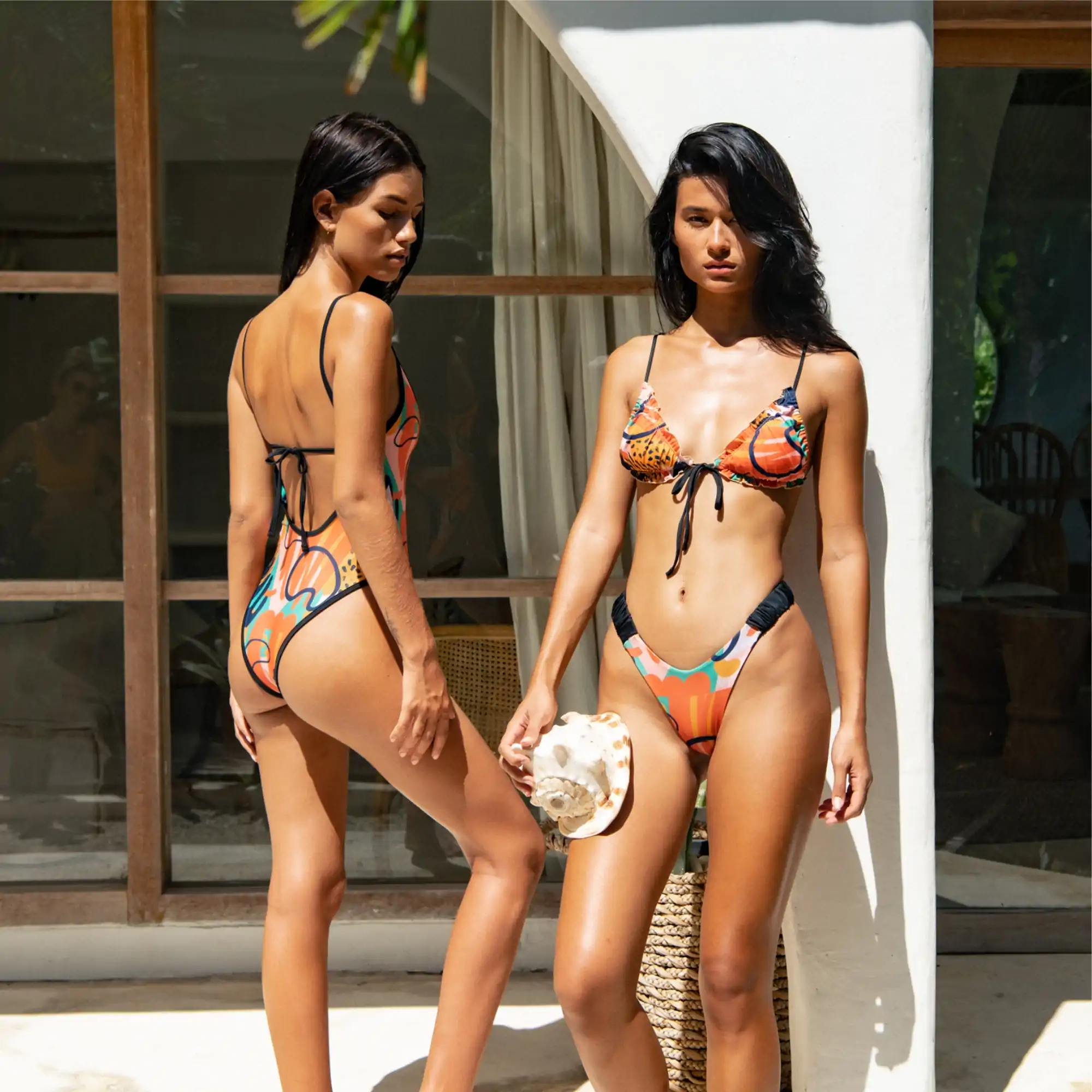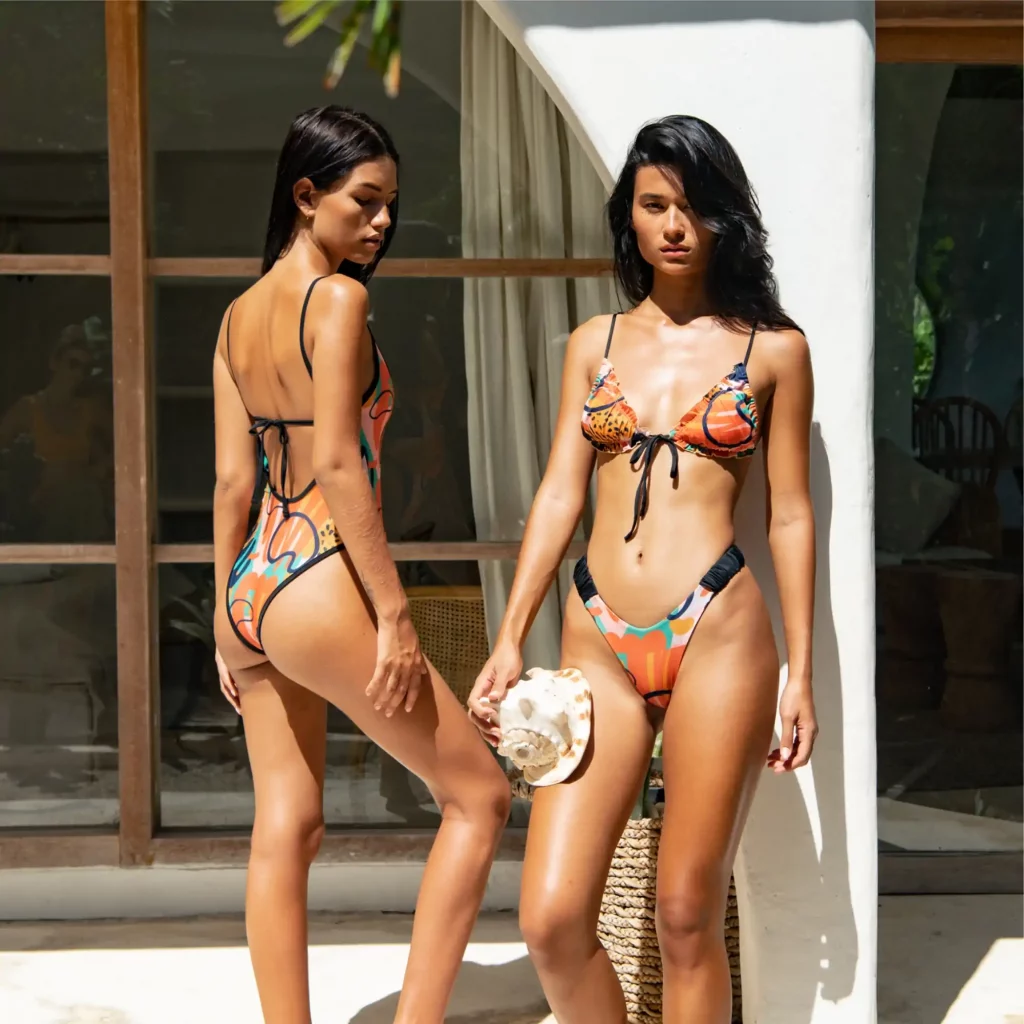 These packs contain one real fabric swatch of each fabric on our website allowing you to feel their textures & select your colours using the corresponding colour cards.
Any of our packs provide all the tools and resources you'll need to create your own Sustainable Swimwear brand that looks gorgeous on any website or in any store. They have assisted hundreds of brands globally to take the first step in selecting their fabrics & getting their collections priced.
A fast & inexpensive way to know the quality we produce as well as how we fit & grade.
Love your body, love the planet
We know the planet's resources aren't infinite; it's why we use certified recycled fabrics in virtually 100% of our products, upcycled from salvaged fishing nets & plastic ocean waste keeping our oceans & marine life that much healthier.
Our dyes are all eco-certified & packaging 100% biodegradable, produced using cassava starch. We offer you a low carbon footprint production cycle allowing you to rightfully claim that your brand & products are both environmentally friendly & sustainable.

Quick Response – send a few words via Whatsapp. 
Any questions? fill out the form below & we'll reply as soon as we are open.