Our core business is producing custom-made designs to clients' specifications. For over 30 years, we have evolved our techniques to produce the highest grade swimwear at the lowest price possible in Bali today.
Please include as much data as you think necessary to allow us to understand your concepts fully so that your samples have the best chance of being approved.
We suggest checking out our International body size guide. We use digital 2D Auto Cads to create patterns that are much more accurate than working with paper patterns.
Option 1 – As complex packs are mostly a thing of the past, the most popular way to work is with screenshots & notes on the changes you want implemented sent as an email or WhatsApp in a Word Doc or PDF.
See an example handover
Option 2 – If you have your designs saved, then simply drag & drop them into the section below
In 2 to 3 days, we'll get back to you with the lowest prices & any questions raised, answered.
Notes
Prices quoted are inclusive of non-branded accessories with 1 heat press applied to the inside back of each article.
We love to see samples approved the first time, so add the data we require to fully understand your concepts.
In most cases, complex tech packs are no longer required & handovers using rough sketches are not acceptable.
Prepare your custom logo for your heat press as soon as possible.
If you're selecting from our Ready-To-Order Collection, then fill in our Sample Request Form
Mix & match some of our Ready to Order Designs with some of your own custom designs, combining points 1 & 2.
All our starter packs offer you a great advantage in actually knowing the quality you can expect as well as how well our swimwear fits the body.
Inside each pack, we've added a good selection of high-grade accessories, most of which can be branded + a swatch of each fabric & their corresponding laser copy colours cards.
Feel the textures of each fabric & see all the colours in stock or to be imported.
Select a Starter Pack
get started get started get started get started get started get started get started get started get started
A must for designers!
We offer 3 packs: Swim, Active & Natural.
Each pack includes one real swatch of each fabric displayed on either website. With any pack to hand, you'll be able to feel each fabrics textures & able select colours referencing the laser copy colour cards.
Pick up a Pack here
Also, we offer free callbacks. More often than not, a quick phone call can save days or weeks in email or WhatsApp communications.
Last but not least!
Have you already downloaded our 2023 Swimwear Guide? If not, then do so here
EXAMPLE OF OUR
ALL INCLUSIVE PRICES
All using Recycled Fabrics
Expect a markup of approx. 5X our price to your sell price.
As an example, a Bikini top at 13 USD retails for approximately 65 USD
You're in this to make money, so please take the time to compare our prices to any other Bali Swim producer requesting they use imported fabrics.
Note
An example of an order for 300 units with us using imported fabrics will only purchase 200 units from any other Bali Swim supplier; even they'll be adding lower-grade locally sourced fabrics.
With prices in hand & payment made, we mockup your styles, colours or prints free of charge. A great way to see what your final collection looks like on a 2D model.
TYPICAL CUSTOMER HANDOVER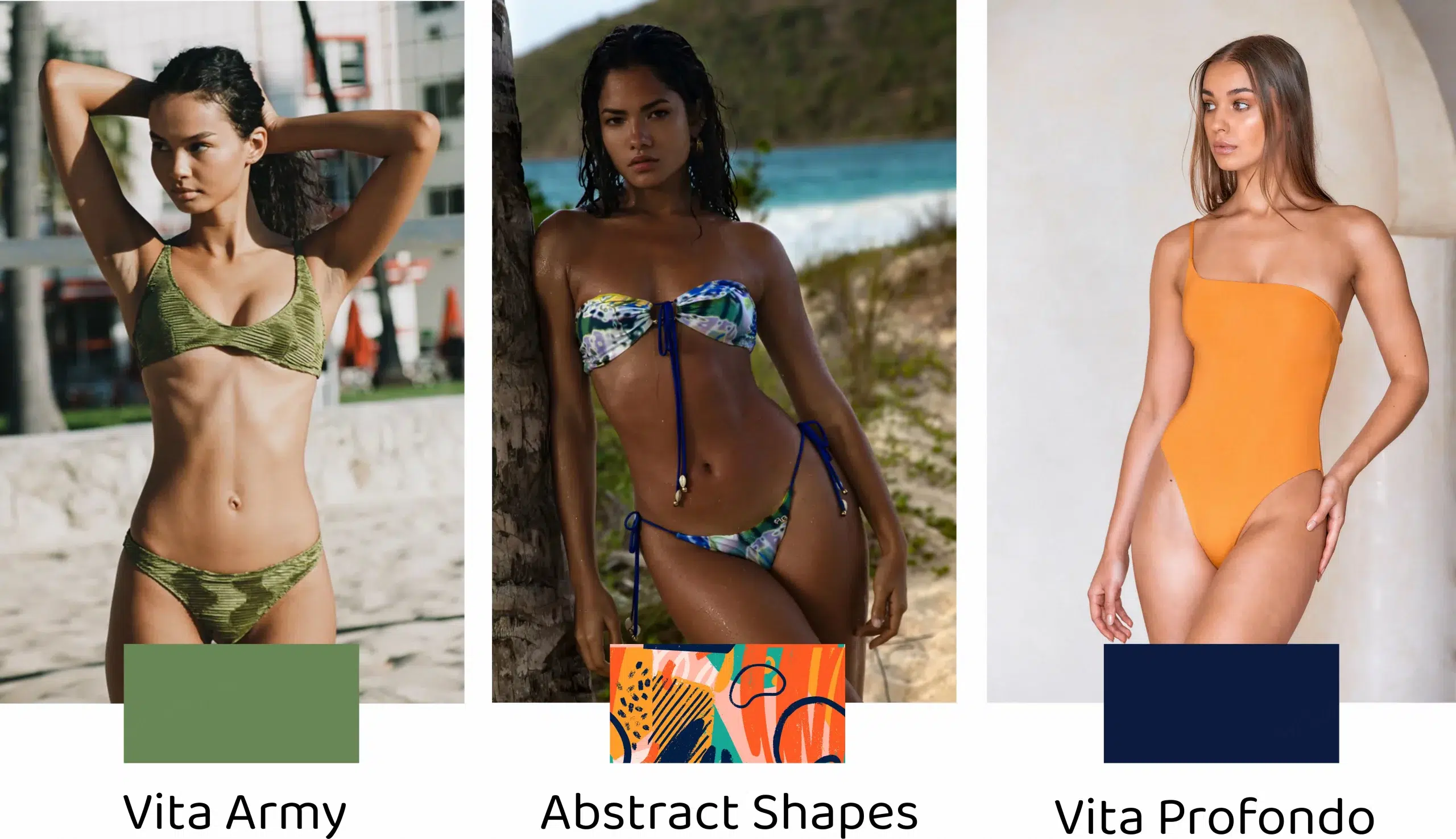 xxx HANDOVER, MOCKED-UP BELOW