As the world becomes more conscious of the impact our clothing has on the environment, sustainable fashion is becoming more and more popular. Trends have seen eco-friendly swimwear brands growing at a rate of 400% higher year on year when compared to traditional swimwear brands as customers are looking for more environmentally friendly options.
This guide will discuss the differences between Traditional Swimwear and Recycled Sustainable Swimwear, the most popular swimwear fabrics, and how to choose the perfect eco-friendly swimsuit for you.
Traditional Swimwear vs Sustainable Swimwear
Traditional Swimwear
Traditional Swimwear is often made from synthetic materials such as Nylon made from virgin yarns, which use new plastics, further polluting the ecosystem with thousands of tons of extra plastics. They further devastate marine life as they shed pieces of non-biodegradable microplastics as you swim and when you wash them.
They also cost more carbon to produce when compared to recycled Swimwear.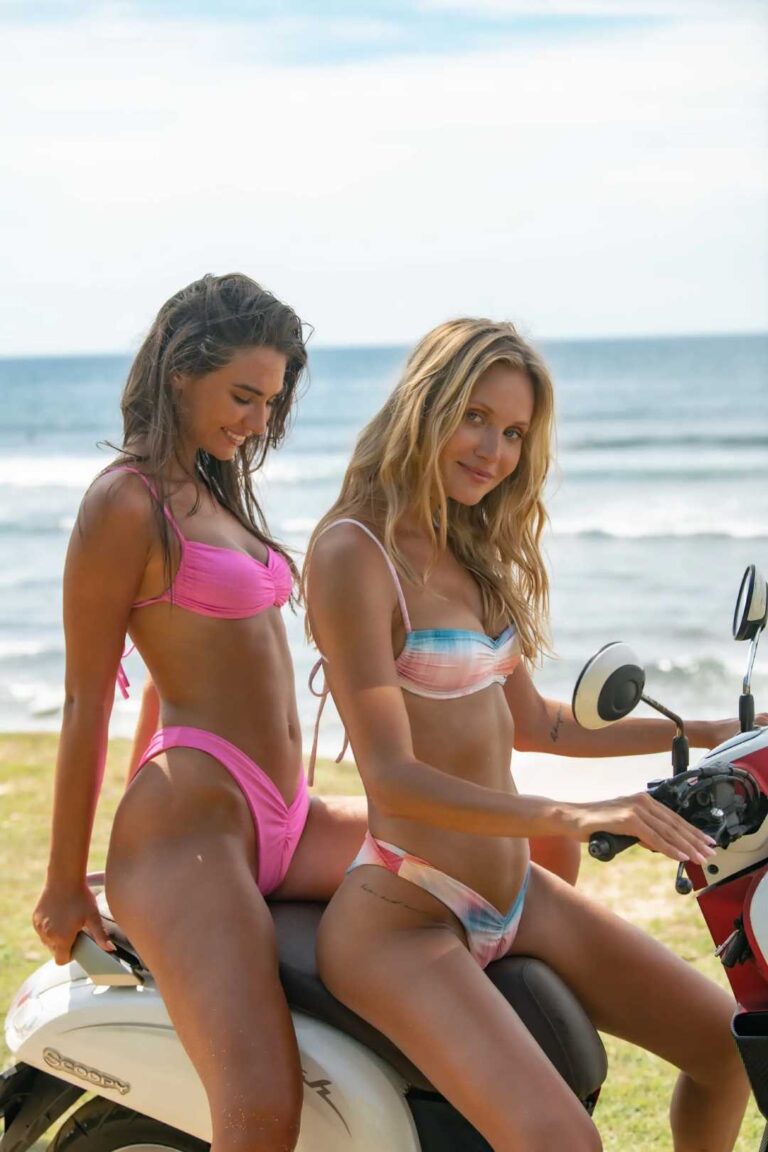 Sustainable Swimwear
On the other hand, Sustainable Swimwear tries to mitigate or even reverse this problem by using recycled yarns made of waste products such as discarded plastic bottles, fishing nets, and other ocean waste, requiring less energy and water to produce.
In turn, this cleans the oceans, preserves marine life, and reduces carbon waste in the atmosphere.
Even once the Swimwear is discarded, it can be repurposed indefinitely in a sustainable manner.
To ensure the Swimwear you are buying is sustainable & recycled, check their certifications, as many claims to be sustainable to sell their products at a premium price.
Important Certifications are GRS(Global Recycled Standard), U Trust, and OEKO-TEX. 
The most notable yarn manufacturers specializing in Recycled Fabrics are ECONYL in Italy and REPREVE in the US. They ensure their yarns & fabrics are certified by the GRS, Oeko-Tex, and U Trust.
Most Popular Swimwear Fabrics
The most popular fabrics for Swimwear, whether Traditional or Recycled, are Nylon, the softest material on the market, and, lesser so, Polyester, as it has a slightly harsher hand feel. 
Nylon vs Polyester
Nylon takes to more organic colors & is digitally printed using eco-friendly dyes. 
In contrast, Polyester is more suited to brighter, neon colors & is printed via a process of heat-pressing the colors onto the fabric, called sublimation printing.
Many brands choose to use Nylon in their products instead of Polyester when using print patterns because the quality is far superior to what is found in sublimation printing. The overall sharpness and quality found in Digital printing are better than in sublimation printing; Digital prints will never fade, unlike sublimation prints. However, Digital printing tends to be much more expensive as it is a more complex process than sublimation printing. 
Making a sustainable choice
Below, we'll explore the factors you should consider when choosing an eco-friendly swimsuit.
The first thing to consider when choosing an eco-friendly swimsuit is the materials used. Sustainable Swimwear is typically made from recycled or natural materials. Recycled materials are typically the best choice as they require less energy and water to produce than traditional fabrics while at the same time using upcycled waste materials to clean the oceans further.
Second, ensure that the brand you buy from works with a manufacturer with ethical and sustainable practices; research them to see if they have all the correct certifications and hang tags. 
Third, ensure you get the correct size, as many different brands use different size charts depending on their market; for example, Australian and Californian brands tend to be smaller on average than a size chart from a brand in Texas. 
Finally, another factor you should consider before making a purchase is cost. Sustainable fashion is often more expensive than traditional fashion due high costs of sustainable materials and ethical production methods. However, many argue that the extra cost is worth knowing their purchase helps support a more sustainable future for fashion. With more fashion brands switching to sustainable and recycled fabrics, the price to produce them will decrease. As the world becomes more conscious of the impact of fashion on the environment, sustainable Swimwear is becoming a popular option for those who want to make a difference.
With some research, you can find the perfect eco-friendly swimsuit that meets your needs almost anywhere in the world, from more modest one-pieces to revealing bikinis or bikinis with more support with underwire to lighter bandeau tops. There is a choice for everyone.
Some examples of popular sustainable swimwear brands are Bydee, VDM & Lanasia, which we produce for here at Swimwear Bali. 
We ensure that all the fabrics sourced are recycled and sustainable, and all human resources follow ethical & sustainable guidelines.
If you've ever wanted to start your own Sustainable Swim or Activewear brand, we offer all the tools & knowledge you'll need to start your brand today!